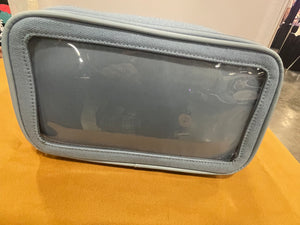 Wheelchair friendly ita bag that converts into a over the shoulder bag, cross body, and backpack.

Bag comes with 4 zipper compartments
First compartment is for the clear window to display your pins, zips all the way to the bottom to open nice and wide. This compartment also has three little D-rings to attach chains or keychains to display as well.
Second compartment is the biggest one which is very roomie and can hold up even a switch in a case. This area also has two inner pockets to place small objects so it's easy access. ex: AirPods
Third compartment is a bit smaller than the first one but can still hold even a wallet in it. Which is where I usually stick mine so I can just grab that without opening everything and searching. This area also has an inner zipper pocket that can store your phone or changer.
Lastly, favorite for most people, the last compartment is a small zipper section found at the back of the bag where you can place your phone in. It can hold even those big galaxy phones. 
The ita bag will come with:
1 long cross body strap
2 small over the shoulder straps to use as a backpack
2 super small straps that are used to attach to your wheelchair if you use one. 
Bag dimensions are: 10" x 5.5" x 3.75" 


If you have any questions please feel free to DM the shops support page.